If you're having problems selling your old house, or if you've inherited one and you're not sure what to do with it, consider renting it out. The promise of a consistent flow of cash from your tenants is just too good to pass up. However, converting your home into a rental property isn't as easy as putting up a "for rent" ad online. Here's what you need to know about the benefits and the process of turning your home into a money-making machine.
A Look at the Benefits
There are many upsides to owning and operating a rental property, and they all point to more profit and better savings.
1. Passive Income
One of the best things about renting out your old home is the passive income you get from it: a monthly paycheck in the form of rental payments from tenants. With it, you can pay for the house's mortgage, maintenance, and improvement costs.
If you've already paid off your home, you'll earn even more profit! You don't have to worry about losing customers, either. According to a recent report by the Pew Research Center, over 36% of homeowners in the United States are renters.
2. Market Value Appreciation
You may not be getting the offer of your dreams when you put your house on the market, but waiting it out for a few years could net you a bigger payout in the future. Real estate is an asset because its value often goes up as time goes by. This growth is also stable, unlike more volatile investments like oil and artwork.
Instead of holding on to your property until it appreciates to a value you're satisfied with, rent it out to gain profit on top of your future sale.
3. The Tax Benefits are Worth It
If you're still paying off your old house or you're worried about the operational costs associated with your property, the state can take a significant amount of this load off your back in the form of tax benefits.
The Internal Revenue Service (IRS) says that as an owner, you can deduct tax for necessary and ordinary expenses. These include maintenance, utilities, insurance, and even advertising. Though improvements, like adding an extra bathroom, aren't deductible. As long as you keep good records (keeping receipts and logging repairs) and submit your financial statements on time, you won't have to worry about missing the benefits you deserve.
How to get your Rental Rent-Ready
Now that you've decided to convert your old house into a rental property, naturally the next question you may have is how do I get my property ready to rent? You may need to hire a real estate agent and a property manager to give you advice and to handle all the paperwork associated with the conversion but the detailed list below will get you started.
1. Start With the Legal Stuff
Before you start fixing things up, dreaming up design schemes, and coming up with tenant interview questions, the first thing that you should do is familiarize yourself with the landlord and tenant laws in Colorado and Denver.
Legally, you're allowed to charge any amount of security deposit that you wish, but remember that you are legally required to return that deposit with a month after the tenant moves out (or up to 60 days later if specified in the lease.)
If you don't, tenants can sue you for that deposit in an amount up to $7,500.
When determining your rental and deposit amounts, take current market conditions, the size and location of your property, and the amenities you offer into consideration. Tenants will know if you're shooting too high, and your space will stay empty as a result.
You must give a minimum of 10 days notice if you're going to increase the rent in a month-to-month lease, and your tenants can withhold rent if you don't handle essential repairs in a timely manner (so make sure you always have enough cash on hand to cover these costs.)
Also, study up on the Housing Discrimination Act, eviction rights, and local ordinances in Denver like the city's Noise Program.
2. Have Your Property Inspected
Before you're ready to rent your property or even start renovations, you'll need to have it completely inspected.
This will let you know if you need to fix your plumbing, handle any termite or pest infestations, take care of structural issues, repair the flooring, and generally ensure that it's safe and comfortable to inhabit.
Start by hiring a home inspector to find possible problems in your home that may need repairs. If possible have your city government's inspector assess your property to find out which issues need to be addressed immediately to get a license to operate your rental business.
Once you have a recommendation from them, get help from your local contractors to get the repair work done immediately.
Now is also the time to note out the kind of property maintenance you're willing to offer.
For example, will you take care of future plumbing problems, lawn mowing, and electrical issues on your own, or will the tenant be responsible for these costs? Additionally, think about the kinds of renovations, paint jobs, wallpaper, and other changes you'll allow tenants to make to your property.
3. Cleaning and Basic Maintenance
Now, let's go over some of the major cleaning and maintenance rent prep tasks you'll need to handle.
Install smoke and carbon monoxide detectors, change the locks and any alarm or entry codes, and even switch up the air filters in the home.
You should also take care of any problems with lighting fixtures, ceiling fans, and either replace dirty carpets or have them professionally cleaned. You'll also need to fill in any cracks or holes in the walls.
We strongly suggest that you hire expert deep cleaning services, especially if the previous tenant owned pets. They'll handle things like cleaning the baseboards, windows, fridge, and more.
Tips for your upgrades:
Start by chipping your old paint job and add a fresh coat. This is a low-cost way of giving your home a cleaner and more welcoming look;
If you plan on including appliances with the property, you may want to give them thorough testing and cleaning. Replace old but affordable appliances like coffee makers and kitchen and bathroom fixtures with new ones;
Hire a professional cleaning service to restore your carpets and floors to their former glory, and
If you really want to impress your tenants, remodel your kitchen and bathroom to give them a cleaner and more modern look.
Doing all of this may also improve your home's value and give you better returns if you do decide to sell it someday. The cash and elbow grease you invest in these repairs and upgrades are worth the comfortable and hassle-free experience your tenants they have once they move in.
4. Work on Curb Appeal
Another huge part of getting your property rental ready?
Making sure the yard is in great shape.
Mow the grass, trim any unruly trees, replace broken concrete, and plant flowers and shrubs in the front yard (check out this list of low-maintenance flowers to come up with ideas.)
Also, repaint the door, add some flower pots and a welcome mat, and even include a bird feeder in the yard.
These small details can go a long way.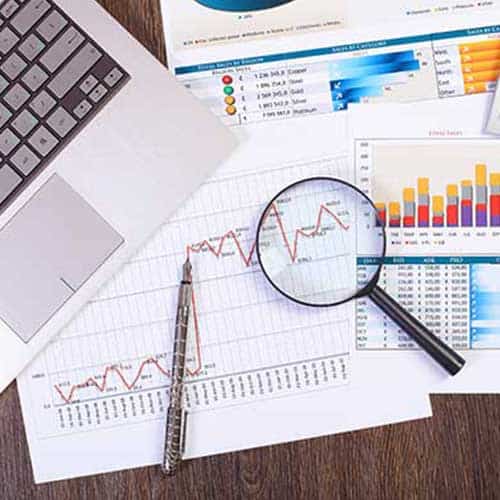 Why not start with a free rental price analysis so you can learn what your property could rent for?
5. Decorate Your Property
Now that the serious stuff is taken care of, you can start decorating your space.
Decide whether you want to offer a fully or partially furnished home for rent, or if you'd like to have the tenant handle all their furniture needs.
We suggest going with neutral paint colors inside your rental property, like sand, off-white, beige, or light brown.
This makes it much easier to find furniture that matches the needs of your space or any furniture the tenant is bringing along.
Switch out the drawer pulls for an easy and affordable modern update, and add a few small area rugs which are affordable, but a nice touch.
6. Get Insurance
Your current homeowner's insurance may not cover the needs of your rental property. This is why the Insurance Information Institute recommends getting renter's insurance, which often has liability and medical expenses coverage, in case your renters get hurt on your property.
Some plans may also protect items you leave on-site, like the lawnmower you use to maintain the landscape and home appliances, from damage caused by fire, lightning, and hail. Even if you've done repairs and upgrades to make the property safer, you can never be sure.
7. Find Your Tenants
Once your property is in tip-top shape and covered by your insurance policy, it's time to put it on the market. Work closely with your real estate agent to find the best channels to advertise your rental property.
If you already have a property manager hired, you can let them do tenant interviews and paperwork for you as well. If you want to be part of the vetting process, pay close attention to their credit score, previous rentals, and police records. You don't want a delinquent renter giving you headaches with delayed and incomplete payments and/or property damage.
It's not smart to let your old home pick up dust while you're waiting to sell it. Get better value out of it by converting it into a rental property. Not only will you gain profit to either keep or pay off your old home's mortgage, but you'll also reap the rewards of appreciation once you decide to put it on the market it a few years from now. And with the enhancements you'll make to your property, your prospective tenants won't hesitate to close the deal.
Partner With Reliable Property Managers
The safety and comfort of your tenants should be your top priority as a landlord. If you have a day job, however, you may not have enough time to address these concerns. Here at Bergan & Company, we'll do the legwork for you.
Our professional property managers handle everything from maintenance to making sure your tenants pay rent on time. We've been serving Colorado property owners for over 57 years now. We're proud to earn their trust with our commitment to transparency and data-driven investment decisions.
Contact us today to keep your property in tip-top shape.
Further Reading from Bergan & Company